Wacker Neuson EZ25 - 2.5 Tonne Zero Swing Mini Excavator:
The Wacker Neuson EZ25 is the perfect mid sized mini excavator. EZ25 is a great step up in power from a 1.7/1.8t excavator, while still small enough for easy transport, standard with an easily removable split canopy. The EZ25 is feature rich with the same quality and reliability you would expect from all Wacker Neuson equipment.
Key Features: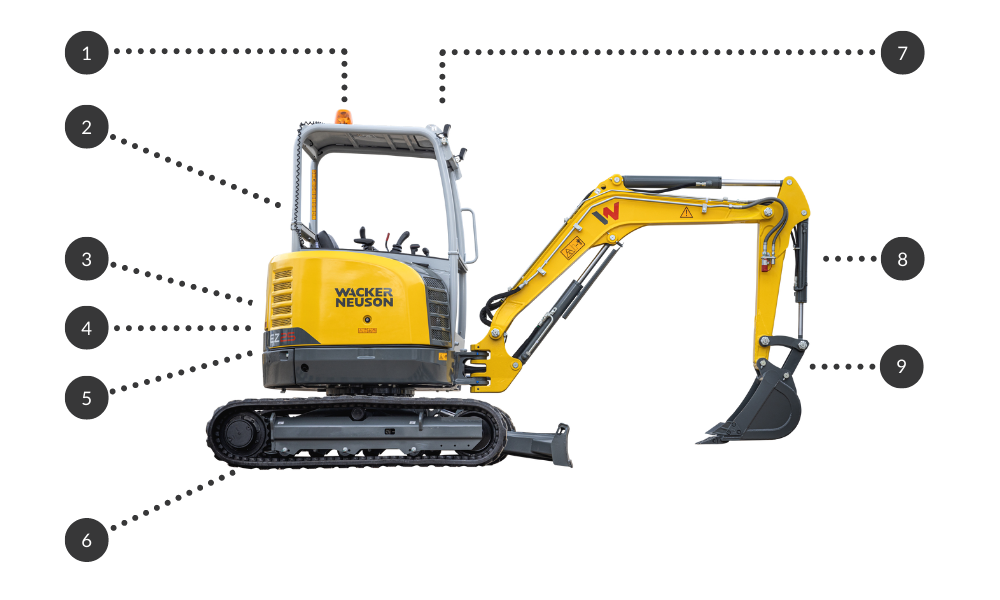 1.
Safety

Rotating beacons, reverse beepers and warning horns as standard ensures machine is inline with latest safety standards.
All machines sold by ACES have an OHS Risk assessment prior to delivery.
Working lights on front and rear of canopy, and on boom for optimum safety at night.
ROPS certified canopy.

2.
Comfort

Operators station ergonomically designed for continuous operation without fatigue.
Controls ensure comfort and feature large handles.
Adjustable arm rests fitted as standard.
All levers and switches positioned within easy and comfortable reach.
Seat features adjustable suspension for operators of different sizes.
Travel levers fitted with large foot pedals for precise track control while operating other controls.

3.
Power

Powered by Yanmar 3 Cylinder diesel (20.4HP / 15.2 kW).
Enough power to ensure machine never stalls at any load.

4.
Efficiency

Hydraulic system of EZ25 comprises of double variable displacement axial piston pump and two fixed displacement pumps.
System uses dedicated pilot pump for smooth and efficient control of machine.
High capacity pumps ensure enough flow to control multiple circuits at all times and are reason EZ25 has such high auxiliary flow availability.

5.
Cooling

A high efficiency radiator and cooling system keeps the EZ25 cool in high ambient temperatures.
Oil cooler and radiator mounted side by side for easy cleaning,
Side by side coolers stops common problem of debris building up between coolers mounted in front of each other, ensuring the most efficient cooling.

6.
Versatility

EZ25 fitted standard with rubber tracks and has stable footing with a 1560mm maximum width.
Two speed travel pushes machine along quickly
Gradable up to 30º.

Pattern change from Backhoe (SAE) to Excavator (ISO)

Split ROPS design allows for easy removal and replacement for moving machine underneath low objects such as carports.

7.
Vision

Canopy designed with perfect visibility.
ROPS posts positioned to ensure operator's view is not restricted.
Canopy roof fitted with window, allowing bucket visibility at all times.

8.
Auxiliary Hydraulics

2 way auxiliary piping standard from factory. Boasts one of the highest auxiliary flow in the industry
Massive 50.7L/min.
Fitted with dedicated oversized return line for hammer use. This ensures a minimal backpressure so that if running a hammer, it will run at it's most efficient.

9.
Hitches

Fitted with Wacker Neuson Easy Lock fully automatic quick hitch as standard.
Wacker Neuson Easy Lock Powertilt fully automatic quick hitch (optional) also available.
(EZ25)
General:
| | |
| --- | --- |
| Transport Weight | 2,560 kg |
| Operating Weight | 2,710 kg |
Engine:
| | |
| --- | --- |
| Manufacturer | Yanmar |
| Model | 3TNV76 |
| Construction | Liquid-cooled, 3-cylinder diesel |
| Displacement | 1,116cm3 |
| Engine Speed | 2,500rpm |
| Engine Output according to ISO | 15.8kW (21.2HP) |
| Battery Voltage / Capacitance | 14V / 44Ah |
Hydraulics:
| | |
| --- | --- |
| Pumps | Double variable and double gear pumps |
| Max. flow rate | 2 x 30.5 + 20.2 + 7.5 |
| Operating Pressure for working and driving hydraulics | 225 bar |
| Operating Pressure for slewing gear | 206 bar |
| Slewing speed | 10 rpm |
| Max. tear out force short / long arm | 15.3 kN |
| Max. breakaway force | 22.5 kN |
Undercarriage:
| | |
| --- | --- |
| Track Width | 300 mm |
| Ground Pressure | 0.27 kg/cm3 |
| Number of track rollers | 3 |
| Ground Clearance | 277 mm |
| Drive speed | 3.8 km/h |
| Max. gradebility | 30º |
Blade:
| | |
| --- | --- |
| Width | 1570 mm |
| Stroke above / below | 380 / 419 mm |
Capacities:
| | |
| --- | --- |
| Hydraulic system | 26.5L |
| Fuel Tank | 36L |
Working Dimensions: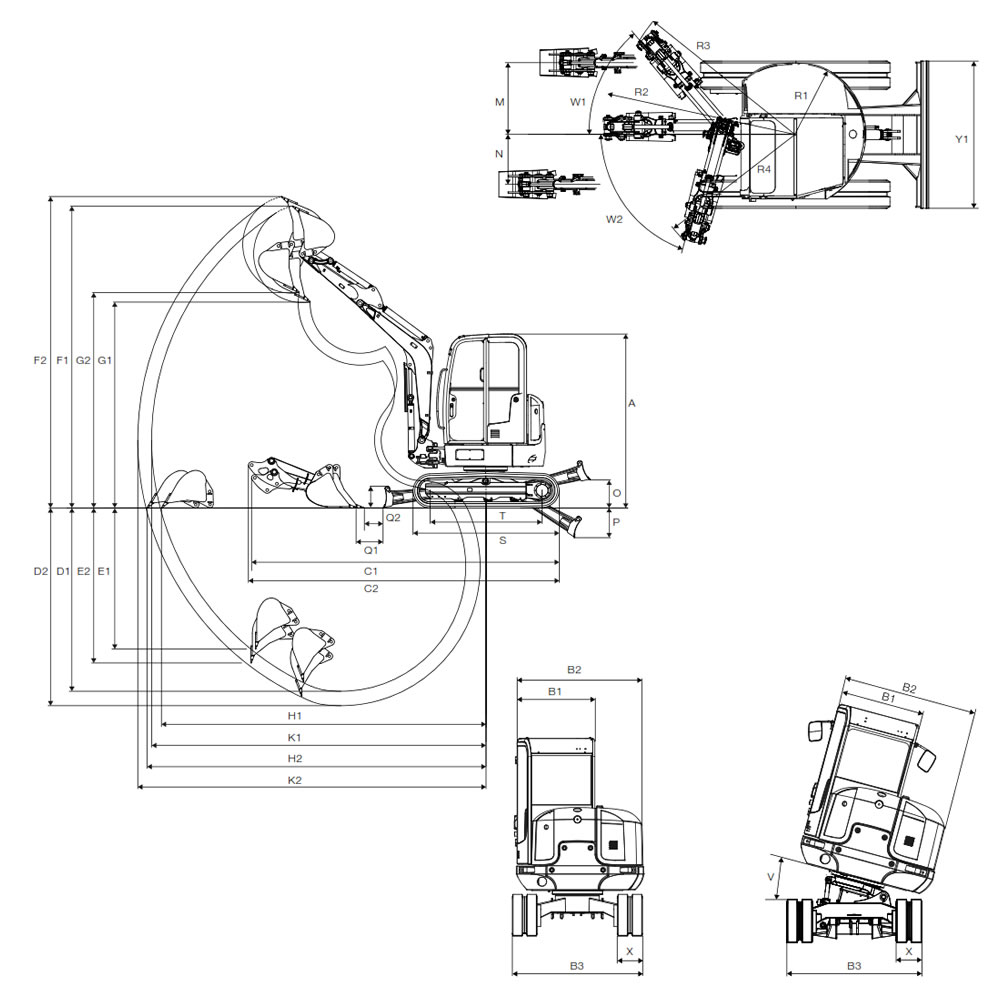 EZ25
A

Height, mm

2,414
B1
Width of the cabin, mm
986
B2
Width of the revolving superstructure, mm
1,340
B3
Width of the undercarriage, mm
1,570
C1
Transport length, mm
4,266
D1
Max. digging depth, mm
2,537
E1
Max. vertical recess depth, mm
1,949
T1
Max. recess height, mm
4,176
G1
Max. dumping height, mm
2,847
H1
Max. ground coverage, mm
4,490
K1
Max. digging radius, mm
4,624
M
Max. boom offset to centre of bucket, right side, mm
765
N
Max. boom offset to centre of bucket, left side, mm
531
O
Max. lifting height of dozer blade above subgrade, mm
387
P
Max. scraping depth of dozer blade below subgrade, mm
412
Q1
Clearance of bucket dozer blade (short dipper arm), mm
259
Q2
Clearance of bucket dozer blade (long dipper arm), mm
354
R1
Min. tail swing radius, mm
759
R2
Boom swing radius, centre, mm
2,080
R3
Boom swing radius, right, mm
1,960
R4
Boomswing radius, left, mm
1,641
S
Total travelling gear length, mm
2,006
T
Travelling gear length of the sprocket guide wheel, mm
-
W1
Max. swing angle of the arm system to the right,

º

50
W2
Max. swing angle of the arm system to the left,

º

75
X
Chain width, mm
300
Y1
Dozer blade width, mm
1,570
Z
Dozer blade height, mm
300
Specifications subject to change without notice due to continual product development
Be The First To Review This Product!
Help other P.C. Arbuckle Propriety Limited users shop smarter by writing reviews for products you have purchased.
---
Others Also Bought
---
More From This Category