Superior Joint System
Date Posted:22 March 2017
---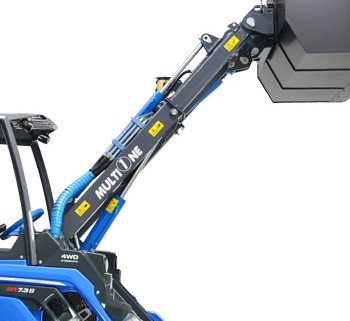 MultiOne loaders feature fully greasable pins and bushes throughout the machine, including in the arm and articulation joint.
Pivot joints with high rotational movements feature long-life self-centring spherical bearings. Some manufacturers claim that their non-greasable Teflon bushings are the latest technology and are better than greasable joints. The MultiOne system is however far superior. Greasable joints will greatly outlast dry joints and are used on all larger earthmoving equipment. Dry joints are generally only used to cut costs during manufacturing, with no real benefit over a well designed long-life greasable system.

The MultiOne articulation joint system is a fixed pivoting system by design without any oscillating movements. This means that the articulation system only pivots from left to right without any twisting on uneven ground. The real benefit of this type of joint system is that it greatly increases the lifting capacity of the machine over an oscillating joint used by some other manufacturers. The MultiOne articulation joint allows the chassis of the machine to remain 'stiff' at all times.