Choice of Wheels and Tyres
Date Posted:5 April 2017
---


MultiOne Mini Loaders feature the largest range of wheels and tyre options of any mini loader on the market.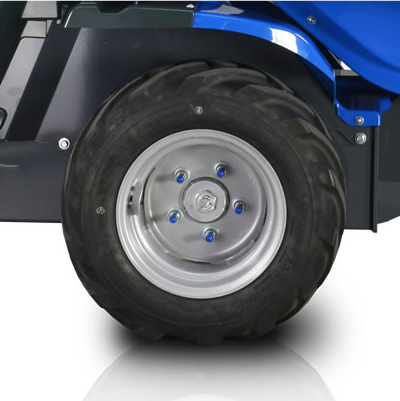 Having options of wheels and tyres makes the machines fully customisable in terms of driving torque, ground clearance, ground pressure, lift height and capacity.
The 5.3 mini loader is the perfect example of how a MultiOne Mini Loader can be customised.The standard tyre package of 23x10.50-12 Tractor tyres are great balance of ground pressure, torque and traction.
If working on lawns continually, they can be changed to a Garden tyre or a Garden pro tyre to protect the ground while maintaining the same torque and speed.
If working continually on harsh ground conditions, the wheels can be upgraded to a 26x12.0-12 Tractor tyre to improve ground clearance and lower ground pressure.
If working on very delicate surfaces such as golf courses and cemeteries, the wheels can be upgraded to a 26x12.0-12 with a Garden profile for minimal ground pressure.