EquipCare GPS Telematics System
---


EquipCare is now available in Australia on a wide range of Wacker Neuson Equipment. Equipcare gives your Wacker Neuson machine a voice.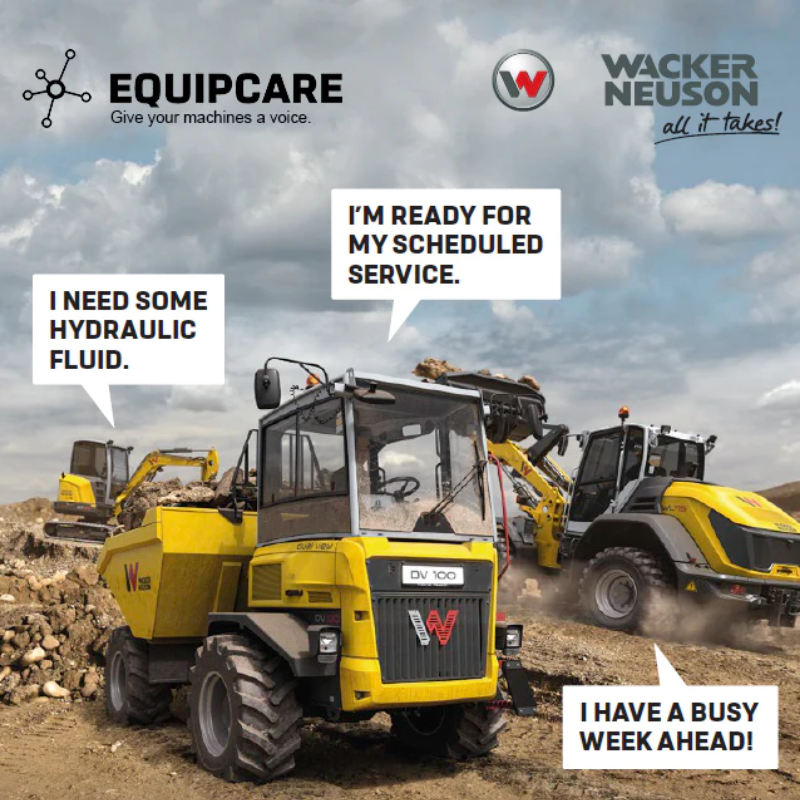 In the past, communication between machines and their owners was limited by the need for a service technician to intervene and evaluate the machine's status. Now, just imagine if your machine would automatically provide you with information you need – where is my skid steer? How many hours does the wheel loader have on it? And, isn't the excavator due for maintenance soon?
With Wacker Neuson's telematics solution, EquipCare, communication is now easier than ever, with EquipCare, the machine independently reports on maintenance needs. Helpful diagnotics can be sent to the owner and the Wacker Neuson technician. Low fluid levels, component malfunctions, unexpected relocation, etc. EquipCare puts the status and location of your equipment within easy reach on your PC and smartphone.
Reduce the stress level on the construction site:
If a machine fails, the technician tracks the error codes even before they leave the shop (Canbus machines only).
Remotely check which machines in the fleet need a scheduled service.
Limit machine downtime with remote diagnostics, order specialists and spare parts as needed right away.
Anti-theft, geofence your machine and receive notifications if it is moved without your knowledge