Replacing a Hydraulic Hose
---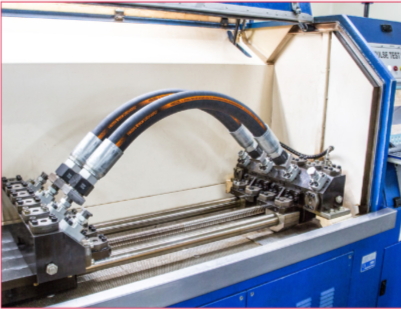 Choosing the correct hydraulic hose for your machine can be a daunting task, and unless you are engineering a brand-new hydraulic system, you will most likely be needing to replace an old or worn hose on your machine at some stage. A good place to start would be looking at your old hose, the application in which it is used for, and then consulting a hydraulic hose specialist with your requirements.

Determine what material is being pumped through your hose. Most hydraulic hoses are compatible with petroleum-based oils and are made from oil resistant synthetic rubber. It is best to consult a fluid compatibility chart, of which you can find here: Fluid Compatibility Chart

Measuring the inside & outside diameter, as well as the length of the hose will help a specialist work out which is best for you. The outside diameter is important for sizing the appropriate fittings, clamps and couplings. Without factoring in temperature, pressure and fluid – an oversized inside diameter will result in lethargic system performance, whereas an undersized inside diameter can cause extreme pressure drops, leaks and damage. Inside diameter measurements converted to 1/16 of an inch will give you your dash size, which a hydraulic hose specialist uses to narrow down the correct hose you need.

Knowing the temperature of the fluid/gas or air being transported through the hydraulic hose cannot be overlooked. Most hoses can withstand temperatures from -40 C to 100 C. Anything over or above, requires a specialty hose with a specific outer cover for that temperature. Exceeding hose temp ratings is an extremely unsafe practice due to obvious reasons, and it will also significantly reduce your hose life by up to 80%.

Maximum working pressure is measured in Psi or BAR and is the highest amount of pressure that the hose can operate under. A pressure can be known as Dynamic (fluctuations, shocks, pulses, changes) or Static (constant pressure, no changes). You must know the pressure of your hydraulic system to select the right hose. Manufacturers use a 4:1 safety factor, for example if a hose is rated 5,000 psi, the burst pressure will be 20,000 psi. Make sure your chosen fittings match the hydraulic hose pressure; as we know fittings are the weakest point of the hydraulic assembly.

The Society of Automotive Engineering (SAE) have put together a basic specification guide or standard, that you can refer to when making the selection. There are about 20 different hose standards, or types of hoses - that manufacturers of hydraulic hoses have based their own products from. The specification guide is called the SAE J517 and can be called upon for hose compatibility between fluid material, size, temperature, pressure, bend radius, type of reinforcement and tube covering SAE Hydraulic Hose Specifications J517
Ultimately there is no corner cutting with hydraulic hose selection. With so many factors to consider, the best thing you can do is make an informed decision and consult a hose specialist. Any good hose manufacturer will have their own product technical manual for referencing to your hydraulic hose needs. Ryco Technical Manual