Hydraulic Hose - Quality for Longevity
---


In a world where we are given a huge range of choice and options; it's no wonder products are getting cheaper to keep up competitively. But this means poor assembly, from low quality materials, via unregulated manufacturing methods, on below-par equipment – you get the point. The same applies to selecting hydraulic hoses for your machine. We know that quality always mean longevity, but how does this apply to you and your application?

Decades ago, the Society of Automotive Engineers (SAE) published a standard J517 to which 20 hose types were used as a basis for the design, construction and pressure ratings to meet the minimum requirements. Of course, all things must evolve and another standard, the ISO 18752 was produced. This gave specific requirements based on maximum working pressures (in ratings) - however both standards are still valid to this day, with most being rated to the SAE.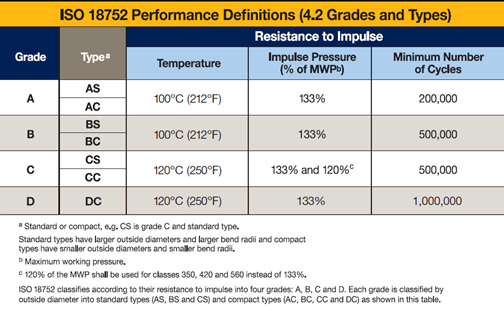 The ISO 18752 Standard has nine different classes for max working pressure, 500 to 8,000 psi and are classed by their resistance to impulse pressure in grades: A, B, C, and D. Each grade requires a specific number of impulse cycles at a certain temperature and impulse pressure in order to meet the standard. Additionally, the grade is then classified by the outside diameter of the hose into standard types (AS, BS, CS) or compact types (AC, BC, CC, DC). Compact types have a smaller outside diameter and bend radius than the standard types.
So why are we comparing ISO vs SAE ratings? Simply because a manufacturer of hydraulic hose can achieve SAE standards cheaply. Whilst it does cost that bit extra for a hydraulic hose to be manufactured to ISO ratings, you are getting a better quality.

For example, a Ryco H5016D hydraulic hose is manufactured to the ISO 8752-CC standard, with the equivalent being the SAE 100R13. However the Ryco hose has been tested up to 1 million impulse cycles, and has half (twice as much) the minimum bend radius of the SAE standard.

Over time, paying a little more for a better quality hose will absolutely save you money. It will last 2 to 4 times longer, without the downtime from regular hose changes. A good hydraulic hose is by far a safer approach; giving you a less likelihood of blowing out, with less chances of an oil mess, and greater service life for your machine.