Factory Fitted Quick Hitches
---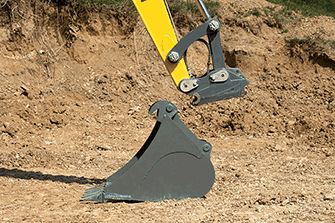 Wacker Neuson is the only excavator manufacturer that supplies a full range of factory fitted hydraulic quick hitches and powertilt hitches across the full line of mini excavators from 1.6T to 15T.
Why are factory fitted hitches such a benefit to the owner operator compared to aftermarket hitches?
The Easylock quick hitch from Wacker Neuson has been specifically designed to work with each individual excavator it is fitted on. It is not simply a 'one size fits all' hitch as used in the aftermarket industry. For this reason they work seamlessly with Wacker Neuson excavators. The engineers at Wacker Neuson have designed a hitch that is very low profile to maintain full breakout force at the bucket teeth, and with a geometry that maintains the correct bucket angles and kinematics when digging.
As Wacker Neuson hitches are factory fitted, the hydraulic lines have been designed by experienced engineers and fitted on the production line, which has eliminated the common quick hitch line failures associated quick hitches on mini excavators. It also means that the lines, hitch, valving and electronics associated with the quick hitch are all covered by Wacker Neuson factory warranty.
Wacker Neuson's powertilt option is currently the only factory fitted powertilt hitch available in Australia, and is available from 1.6T up to 15T. It is also the only powertilt quick hitch with a full 90-90 degree tilt across the full range. Being factory designed and fitted, it has all the same benefits of the factory fitted hydraulic quick hitches, and like the easylock quick hitch it is fully automatic and fully compliant with current standards.