Class Leading Serviceability
---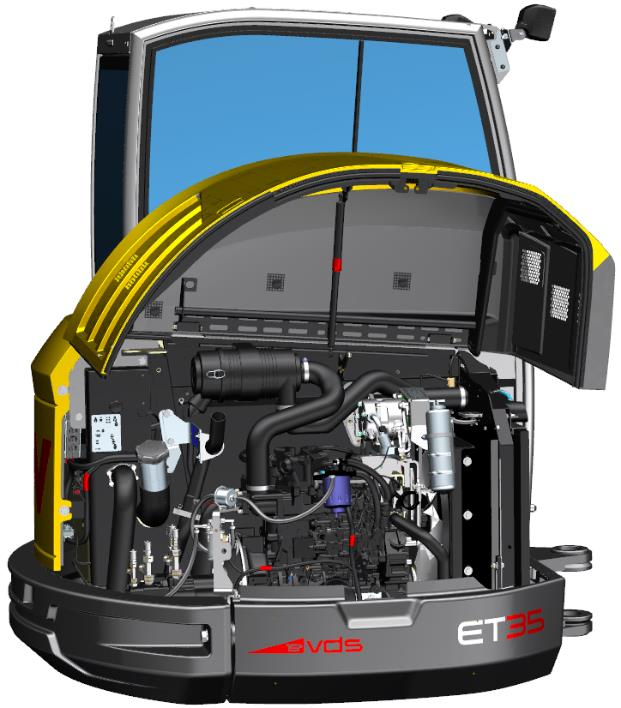 Wacker Neuson excavators are known for their class leading serviceability, designed with preventative maintenance in mind. Tasks that can take many hours on competitors' machines are a breeze with Wacker Neuson.
The addition of the New WANDA electronic diagnostic tool has now made it even easier.
Wacker Neuson's range of excavators from 2.6T to 5.5T all feature side mounted engines with a large single piece bonnet. This unique feature enables access to the complete engine and hydraulic pump. This design makes routine maintenance tasks such as filter, fluid and belt changes a breeze.
The full range of excavators also feature drain valves fitted to the engine sump and hydraulic tank. To change the oil, simply screw on a hose supplied with the machine and the oil will drain out through the hose. This makes oil changes quick and efficient and also environmentally friendly on site as they can be done without spilling a single drop of oil.
Cabins from machines 3.8T and above are able to tilt to either the side or forward (depending on the model). This makes all future maintenance tasks such as hydraulic hose changes extremely fast and efficient. No need to try and pull hoses from underneath the cabin or in tight unreachable spaces – the tilting cab and side mounted engine provide access to the entire machine.
On the smaller models, simple features such as quick release panels rather than bolted panels provide access to key maintenance items such as the battery and engine fill points.
Another great feature is that all excavators from 1.6T and up are fitted with hydraulic pressure test points on each hydraulic circuit as standard. This simple feature enables hydraulic pressures to be recorded during routine maintenance without the need to disassemble hydraulic lines and risk contamination or fluid loss.
Diagnostics can be performed on new series excavators quickly with the WANDA diagnostics tool. Connecting the tool will bring up all listed fault codes for fast diagnositcs. The tool can also be used to pre-set flow rates and switch operations on certain models.
These are just a few unique features that make Wacker Neuson excavators class leaders in serviceability!