Mini Excavator Auger Drives
Date Posted:20 April 2017
---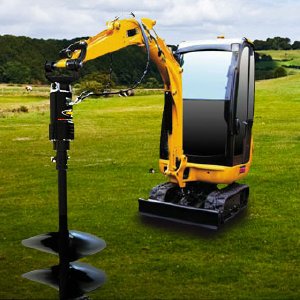 Auger drives are fast becoming one of the most popular attachments for mini excavators. There are many choices on the market, so which one is right for your machine?
There is no one correct answer as to which drive is best to suit your machine; it really depends on the application, but we do have some recommendations. There are three models to choose from in the 0-2 tonne category manufactured by Digga: PDD, PD2 and PDX2 drives.
For general purpose drilling with machines up to 1.0 tonne, such as the Wacker Neuson 803 or Kubota K008, we would recommend the PDD.
For machines up to 2.0 tonnes, we generally recommend the PDX2. PDX2 drives have higher torque than the PD2, and most 1.5-2.0 tonne machines have a high enough flow rate to drive them efficiently. There are some exceptions to this; if you are fitting to most Chinese manufactured excavators or underpowered 1.7 tonne machines, then the PD2 would be a better solution. All Wacker Neuson models in the 1-2 tonne range have enough power for the PDX2 drive.
Some applications require the highest amount of torque available out of the auger, and for small screw piles we have 1.7 tonne machines that run up to PD7 auger drives. Using a drive of this size does have its limitations; the drives are very heavy for the machine and will run very slowly due to the limited flow rate. The excavator must also have an arm that is heavy duty enough for the high torques working on them. Not all mini excavators are manufactured the same, so some cheaper machines will not be able to run these larger drives.
There are many other auger drive options on the market, and although we can and do supply other brands when requested, we will always recommend Digga drives as the first choice. They are powerful, extremely reliable and the back-up and support is second to none. Not only that, Digga drives are all manufactured in Australia, so every Digga drive you buy is supporting Australian families!